Step 5: We build a structure, a community, a bond, an experience.

The furry pavilion is a multi-year project to create a community space for our camp and for visitors who want to interact with our camp.
It is a modular creation, created out of shade cubes with a conduit frame and with shade cloth for the roof to allow for ventilation. Each section is a 20′ x 10′ structure with an 8′ height. The shape can change over the years allowing for growth and experimentation. The first year would be rather small, but would grow over the years. To pay for this would be the implementation of a camp dues system, of approximately $100-$150.
The outside walls are a canvas material that blocks the wind, and also creates a surface that we can have furry artists create a work of art. Each of these pieces would be angled out, and would create a 10′ wide by 9′ tall surface. Artists would be given a fair donation to cover materials, but as this is not a profit making venture, our goal is to seek out burner friendly artists who want to send their art to the playa where it can be seen and enjoyed, not to find furry artists looking to make a profit. Canvases can be painted on both sides, so that both the outside and the inside can be a creative space.
The canvases on the frontage of the pavilion would be on a curtain type system, so that on days we want a nice air flow and to be more inviting, we wan pull the curtains to the side, create a large open frontage.
On the inside, we can have a number of things, including playatech furniture. Benches, picnic tables, a bar, etc.
Inside rooms can be created as well, in sizes made up of 10 x 10 sections. The will allow for campers to create interactive spaces. For example, a semi-private fursuit lounge can be created for fursuiters. Or a blacklight chill space full of plushies in another.
Living space as well as interactive space. This is not a space for campers to set up their tents under. Neither is it a full shared camp kitchen. But if we bring in furniture like picnic tables, or a bar, this can be a space for campers to bring out their kitchen equipment and to prepare their own food, or to spread out and work on a personal project, or put up a hamock and take a nap. As long as the space is kept tidy and neat.
Our first year, we built a smaller space, and also playatech furniture to go inside of it.
Our original concern that we would eventually need to start renting a truck to transport all this to the playa, as well as a place to store it off playa, was alleviated in 2016, when we were offered to purchase a storage container by the org. The initial purchase price of $3325 was fronted by some core camp members. After this, the cost (due to Burning Man who stores the container on their ranch) is $605 per year for storage, and another $345 per year for delivery on the playa and pickup. We also plan to use the storage container on the playa as a chill space.
We'll also need to staff the camp. We'll have to figure out shifts, so that we have people around acting as furry ambassadors. Basically, everyone volunteering to take a shift to hang out in the space and just be there, and offering a smile if anyone stops by. We can also host events here. We'll need to have everyone make sure that we keep it clean. Make it clear that no one is to leave random stuff laying around that becomes someone else's problem to deal with. Take turns going through and straightening everything up, making sure it's tidy and welcoming. Blowing the dust off of furniture during a dust storm.
Costs:
I have done a pricing analysys to come up with what this will cost.
Shade Cube: Each 10×20 section: $313
7 x 10' 1" Conduit (Price Below)
6 x 8' 1" Conduit $95
6 Corners $48
60-100 Ball Bungees $40
10×20 Shade Cloth $95
4 Tie Down Straps $25
8 Rebar $10
Canvas Walls:
More info on the artist panels are located here.
Here are some design sketches of the proposed structure for this year: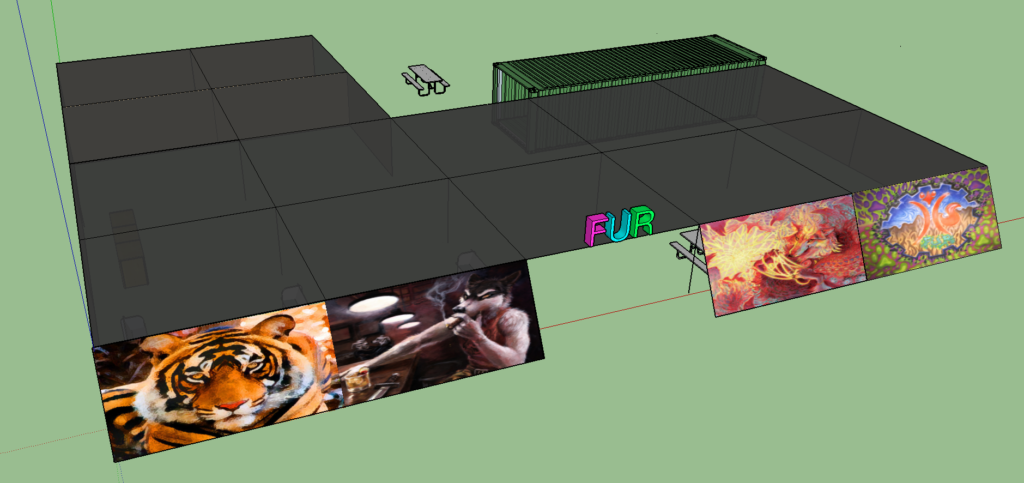 And full camp map for 2017: