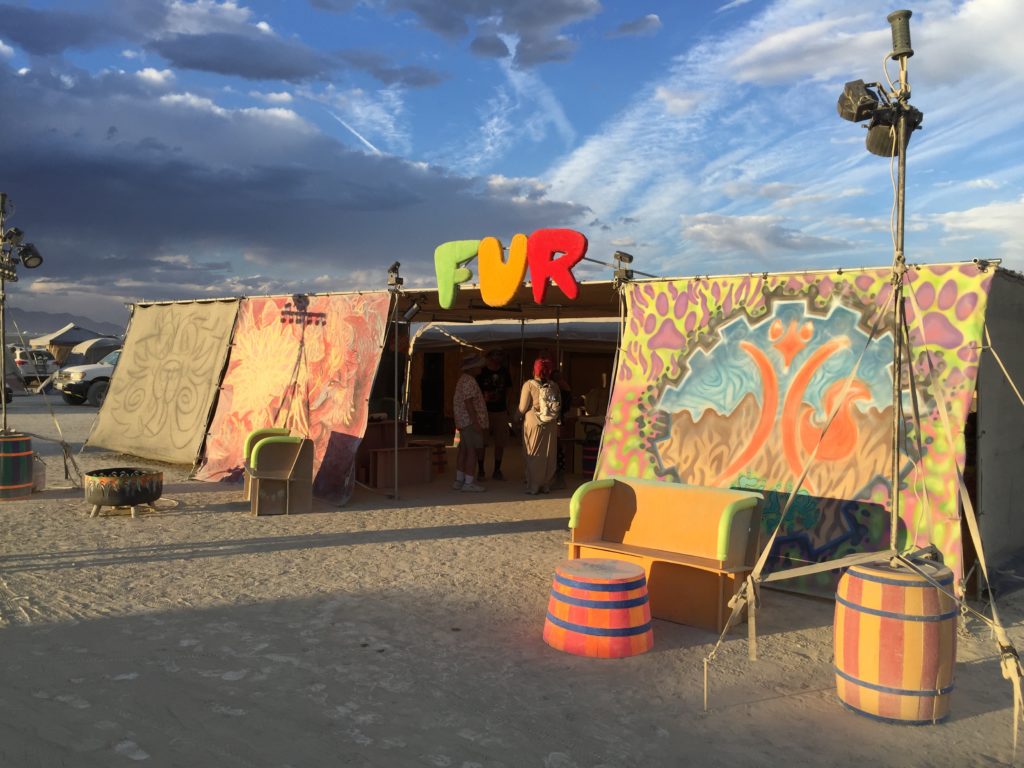 We're doing a new thing this year, in that we're building a pavilion. See more info on that here. With that, we have the opportunity to showcase artists from the furry fandom at Burning Man.
Artists, we'd love to have you involved!
As shown here, outside walls will have large murals on them, that represent anthropomorphic style art. Each year, we'll commission 2 panels, slowly adding to the collection. The panels will be 10′ wide by 8′ tall.
Our camp is not a profitable venture, so we're not looking for artists looking to make some art to sell. We totally respect professional artists, and love what you do. And it's not that we're demanding free stuff. But moreso, we're looking for artists that enjoy the spirit of participation in burning man, and want to contribute to the event, and have their art shared and be a part of a community.
But that doesn't mean that we're asking you to pay to make your art! We have 2 ways that an artist can contribute.
Digital Art
We can use your high res digital art (at least 70dpi at 100% size), and we'll take care of all the printing!
Mural Art
If you enjoy painting by hand, we will cover the cost of the materials. We love seeing hand painted art, and realize there's a number of different possibilities for the materials. We'll provide our guidance but we'll leave the expertise up to you!


Content
So, what should the art contain?
In keeping with the 10 principles of burning man, the art should contain no commercial advertising or commodification. It's completely ok to have your signature on the art, just no giant taco bell logo unless it's been modified as part of satire or humor.
The art should be furry. Anthropomorphic. Something to do with critters.
Keep it PG. Nudity is ok. Aroused or sexual in nature, is not. Same with drug use. Alcohol is ok. Pot use, well, society is in transition on that right now, so let's keep it on the down low. Hard drugs, no. Basically, this art will be in a very public area and seen by children of all ages (mainly adults are the audience, but people do bring kids to burning man).
If you need an idea of what to paint, then perhaps take a look at the theme for burning man for this year. Your art should still be anthropomorphic in nature, but we encourage you to incorporate the theme into your artwork! This will allow for a living history as the pavilion grows in size over the years.
If you are interested in being an artist, please contact someone with camp FUR!
Our 2017 Art Panels.
Being painted live on the playa, spraypaint on canvas, by Raspy:

Printed digitally on outdoor banner material, by Baztek: